Tocqueville Society
The Society honors Alexis de Tocqueville, an early visitor to the United States and author of "Democracy in America".
He recognized, applauded and immortalized American voluntary action on behalf of the common good. He wrote: "I must say that I have seen Americans make a great deal of real sacrifices to the public welfare; and have noticed a hundred instances in which they hardly ever failed to lend a faithful support to one another." Americans understand that advancing the common good means creating opportunities for a better life for all.
The River Cities United Way Tocqueville Society recognizes donors who contribute $10,000 or more annually to improve people's lives and strengthen our community.
Corporate
Arizona Community Foundation
Delta Dental of AZ
McKee Foundation
ShoGun Japanese Tappan Grill
Sterilite Corporation
True Value Distribution Center
UniSource Energy Services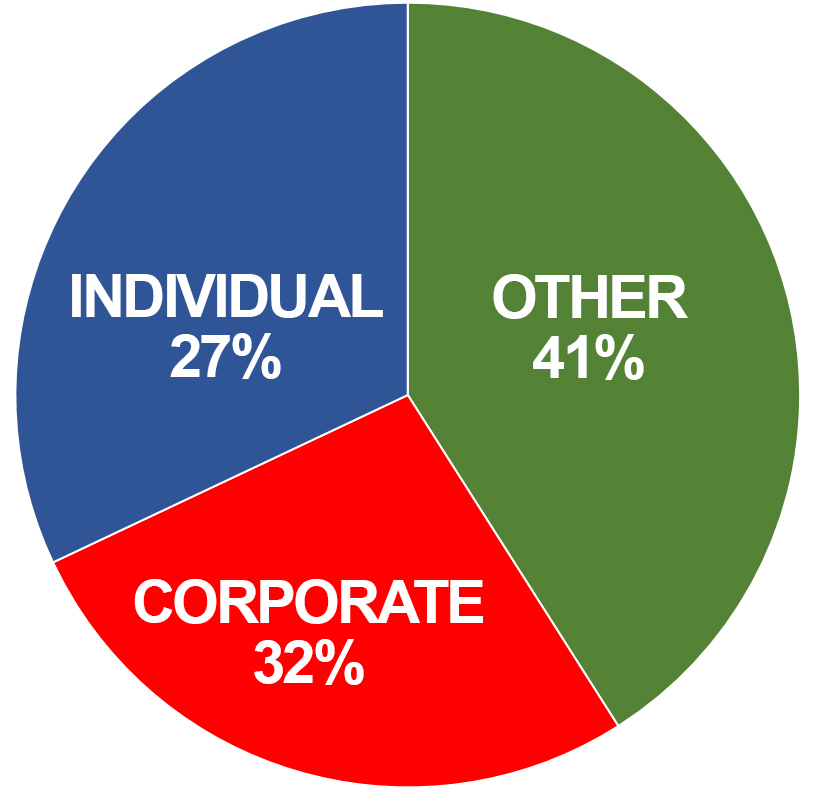 Our Pillar Donors
Donors of $500+
2019-20 Campaign (July 1, 2019 - June 30, 2020)
$7,500 –$9,999 GOLD
Businesses & Foundations
DOT Foods
Individuals & Families
Your family here
$5,000—$ 7,499 SILVER
Businesses & Foundations
Anderson Toyota Scion
Campbell Redi-Mix
Mohave State Bank
Springberg-McAndrew
Individuals & Families
Your family here
$2,500 –$4,999 COPPER
Businesses & Foundations
A & E Services
Arizona Public Service
Epcor
HRMC
Lake Havasu Phone Book
Radio Central LLC
United Parcel Service
Walmart
Wells Fargo Foundation
Individuals & Families
2 Anonymous
Bell, Allan
Cook, Don B.
Dr. Terry & Lisa Gleason
Schaefer, Nancy
$1,000—$2,499 BRONZE
Businesses & Foundations
Anderson Ford Lincoln
Arizona Public Service
Beachcomber Estates
Desert Sun Homes
Dillard's
Dot Foods Inc.
Enterprise Rent-A-Car
FedEx
GDK CPA
Harley-Davidson Motor Co.
HCH Foundation
Horizon Community Bank
J D'Uva Service Plumbing
Lk Havasu Chamber
Lk Havasu City Properties
London Bridge Electric
McKee Foods Kingman, Inc.
Nevada Energy
Nucor Steel Kingman LLC.
PCL Construction, Inc.
United Way of Salt Lake
US Bank Corp
Individuals & Families
2 Anonymous
Allen, Christopher L.
Finnigan, Paddy & Dayton
Foss, Donald
Gooding, Alysha
Johnson, James L.
Kamaka, Dustin
Knudson, Jess
Kozak, Judith A.
Lane, David
Leyba, Pedro Jose
Lombardi, Anthony
McShea, Colleen
Mead, Douglas & Pamela
Moore Jr., James
Myrick, Shauna
Nagel, Sandra D.
Pennington, Debi
Phelps, Rodney
Pierucci, Adam
Rasmussen, Geri
Riley, Brian M.
Robertson, Derek
Short, Benjamin S.
Sickles, Dan & Kathy
Smith, Josh
Tapscott, Ralph & Koena
$500—$999 PILLAR
Businesses & Foundations
Alex Ross Insurance
Arizona State University
Caesars Enterprise Svcs LLC
Cool River Party Rentals
Freeport-McMoRan
Pacific Gas & Electric
River City Newspaper
Individuals & Families
3 Anonymous
Apedaile, Gene & Susan
Bartlett, Gordon & Patricia
Bowe, Barbara A.
Bredeweg, Meredith L.
Cline, Alexander
Conklin, Suzanna B.
Dauner, Adam
Dixon, Wayne
Dudek, Alan & Diane
Eggert, Thomas
Fate, Teresa
Fenderson, Lesly
Fessenden, Melissa
Fuller, Loral
Furman, Maureen
Garst, John R.
Grasser, Doris M.
Greenwell, Laureen
Hansen, John & Victoria
Hart, Candice
Holder, Craig
Irwin, Brian & Cynthia
Jorgensen, Anthony H.
Knapp, Daniel
Krueger, Lisa J.
Lambert, Doreen
Mann, Cristen C.
Mann, Duane
Manone, Mike
Marshall, David E.
McCulloch Press, Sheila
Mercier, Jeffrey
Morris, Stefanie A.
Murphy, John
Oehring, Dave
Overly, Joe
Patterson, Doug
Peterson, Lynne
Port, Marty
Ramos, Punkin
Riddle, Lisa
Rios, Roy D.
Roth, Teresa A.
Rucker, Logan A.
Sandoval, Monica
Schimkat, Richard D.
Starkey, Robert & Rhaanon
Steele, Carol
Vecera, Rocky
Wenner, Craig M.
Westwood, Adam J.
Wood, Elaine "Missy"
Woolington, Roger